June 26, 2014
June 2, 2014
One of my favorite poetesses. An artist, Buddhist, martial artist and incredible human being. Otagaki Rengetsu lived in Japan 1791-1875 and left her imprint on the world with her pottery, poems and paintings. Here's a post with more about her and her art.

Photo and Digital Creation: © Pamir Kiciman 2014
May 25, 2014
What we call "the divine," is none other than the energy of awakening, of peace, of understanding, and of love, which is to be found not only in every human being, but in every species on Earth.
— Thich Nhat Hanh
Photo © Pamir Kiciman 2014
May 25, 2014
When we look into a flower, we can see that it's made of many different elements, so we also call it a formation. A flower is made of many non-flower elements. The entire universe can be seen in a flower. If we look deeply into the flower, we can see the sun, the soil, the rain, and the gardener. Similarly, when we look deeply into the Earth, we can see the presence of the whole cosmos.
— Thich Nhat Hanh
Photo © Pamir Kiciman 2014
May 17, 2014
Healing the dramas and pains of your life leads to awakening to your truest self which is abiding. — Pamir Kiciman
(Source: recitethis.com)
May 3, 2014
The forest is peaceful, why aren't you? You hold on to things causing your confusion. Let nature teach you. Hear the bird's song then let go. If you know nature, you'll know truth. If you know truth, you'll know nature.
— Ajahn Chah
Photo © Pamir Kiciman 2014
April 22, 2014
America's national parks are beautiful in every season, but the start of spring and the months that follow bring some of the most breathtaking painted landscapes that the U.S. has to offer. In honor of National Park Week as well as Earth Day, we've rounded up some of the most colorful views offered by the many wonderful attractions of the National Parks Service.
See all the amazing photos here.
April 22, 2014
Can Empathy Help Stop Climate Change?
See on Scoop.it - Mindful Spiritual Healing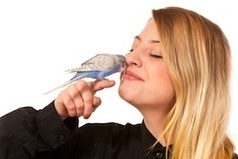 What would make you more likely to reduce your carbon footprint: Knowing that climate change is a threat to people—or to birds? New research has some surprising implications.
One might think that presenting climate change as a threat to humans would be more likely to move people to action than framing it as a threat to birds. But a recent study published in The Journal of Environmental Education finds that's not true.
In fact, the study suggests that people appear more willing to take action if the perceived threat involves some kind of beloved creature other than them. And the reason is that, at least when it comes to climate change, people seem more motivated by empathy for non-human others than their own self-interest.
Pamir Kiciman's insight:
It's Earth Day 2014. Also remember that: "Numerous studies have shown that positive messages—such as those that emphasize the collective impact of carbon-cutting measures—are generally more effective than fear-based messages."
April 18, 2014
(Source: recitethis.com)
April 13, 2014
Sunday Bougainvillea
© Pamir Kiciman 2014